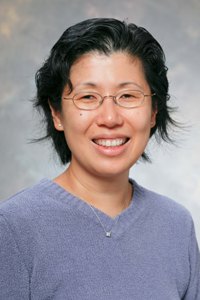 Herta H. Chao, M.D., Ph.D.
Medical Oncologist and Clinical Researcher
BRP PAST FEATURED GRANTEE
Organization:
Content on this page is provided for reference purposes only. It is no longer maintained and may now be outdated.
Dr. Chao works as a medical oncologist at the VA Connecticut Healthcare System in affiliation with the Yale Cancer Center. She is committed to providing excellent care to her patients and to enabling veterans the same access to cutting-edge oOncology clinical trials as non-veterans. As a clinician taking care of prostate cancer patients, she encountered men who had had an excellent response to androgen deprivation therapy (ADT) but noted self-perceived cognitive decline and decreased mental acuity. Dr. Chao realized that cancer treatment studies rarely address the cognitive dysfunction resulting from cancer treatments, and medical oncologists lack the expertise and training to recognize and capture these important adverse events. This motivated her to study the impact of ADT on cognitive function in patients with prostate cancer. Prostate cancer is one of the most common cancers in American men. Many patients will undergo ADT over the course of their treatment, but the indications for and the duration of ADT remain an active focus of research. In a pilot study funded by the National Cancer Institute, Dr. Chao and her collaborators had found that a 6-month course of ADT did not change scores in neurocognitive testing but resulted in alteration in brain activations and resting state functional connectivity, as captured by functional MRI. These findings suggested that ADT could alter cerebral structures and activations, which could lead to the cognitive dysfunction experienced by some patients.
Building on her previous work, Dr. Chao's current study, funded by the NCI, investigates neurocognitive changes from longer-term ADT. Patients diagnosed with non-metastatic prostate cancer undergo functional brain imaging, neurocognitive assessments, and evaluation of quality of life in a longitudinal setting of up to 24 months. Participants are assigned to one of three arms dictated by current treatment guidelines: a control group without ADT, a short treatment group receiving ADT for 6 months, and a long treatment group receiving ADT for >= 2 years. By studying multiple functional domains and correlating them with neural markers, the findings from this study could enhance our understanding of the cognitive risks associated with ADT, including whether the use of ADT may accelerate cognitive impairment, and whether ADT for a shorter duration may have less deleterious effects on cognition. The findings could also help identify individuals at risk, facilitate clinical decision-making, and inform future rehabilitative interventions to preserve functional status and quality of life in patients with prostate cancer.
---
After 3 years on androgen deprivation therapy for prostate cancer, one of my patients - a highly functional individual who was working in the development of medical devices and a Vietnam Veteran who was exposed to Agent Orange - had the courage to tell me that he felt the hormone shots were "frying" his brain. However, he scored well on commonly used neuropsychological tests. This patient's experience made me realize that we needed better tools to assess the cognitive impact of cancer treatment."