Grantee: Jennifer W. Mack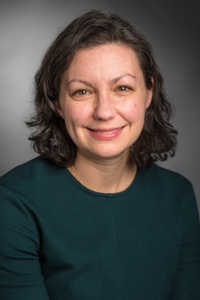 Jennifer W. Mack, M.D., M.P.H.
Outcomes Researcher
BRP FEATURED GRANTEE
Organization:
Dana-Farber Cancer Institute
Current Title
Associate Professor of Pediatrics
Harvard Medical School
Describe your scientific identity.
I am a pediatric oncologist and outcomes researcher with an interest in patient-clinician communication and patient experiences of care.
What are your research interests?
My research focuses on patient-clinician communication, including the ways that communication can improve patient outcomes, enhance decision-making, and build the patient-clinician relationship. I have studied these issues across the lifespan in cancer patients, with most of my focus on children with cancer as well as adolescents and young adults.
What is the significance of your current research project?
My project will develop and test a patient- and family-centered model for cancer risk communication and decision-making for adolescents and young adults (AYAs) with hereditary cancer predisposition syndromes. Hereditary cancer predisposition syndromes affect 5-10% of patients with incident cancers, with heightened risk among patients who develop cancer at a young age, especially AYAs. As a result, genetic counseling and testing is increasingly recommended for AYAs with new cancer diagnoses so that screening for new cancers can take place; however, no AYA-specific models for cancer risk communication and decision-making have been developed.
What motivated you to work in biobehavioral or psychological science research?
As a pediatric oncologist, I witnessed the importance of excellent communication and attention to the patient experience, but found little empiric literature to guide practice. This motivated me to develop an evidence base for our communication practice.
Describe something that had a profound influence on your program of research or scientific interests (an "ah-ha!" moment).
During my early years as an attending pediatric oncologist, I cared for two brothers with Li-Fraumeni syndrome. Both boys and their mother eventually died of cancer. Until that point, I had mostly studied communication with cancer patients. These patients reminded me that young people with cancer risk syndromes face profound fears, risks, and losses. Addressing these issues through effective communication was a natural extension of the work I was doing.
Selected training, awards, and honors:

Harvard Pediatric Health Services Research Fellowship (2005)
MPH, Harvard School of Public Health (2005)
Eleanor and Miles Shore Scholar in Medicine Award, Harvard Medical School (2012)
American Psychosocial Oncology Society Outstanding Clinical Care Award (2016)
---
The most profound influence on my work was my mentor, Dr Jane Weeks, who taught me that doing research, and working with the smartest, most interesting, most fun people, can be one of the great joys of life."