Grantee: Olivia A. Wackowski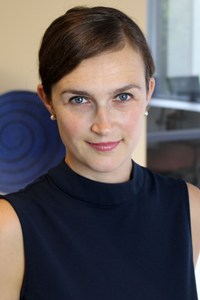 Olivia A. Wackowski, Ph.D., M.P.H.
Public Health and Health Behavior Scientist/Researcher
BRP FEATURED GRANTEE
Organization:
Rutgers University - School of Public Health and Cancer Institute of New Jersey
Dr. Olivia Wackowski is a health behavior scientist with a research concentration in tobacco control, particularly in the areas of tobacco communication, tobacco product perceptions, and use trends. She uses qualitative and quantitative methods to: (1) characterize the types, prevalence, and content of tobacco communications to which the public are exposed (e.g., tobacco advertising, news, warning labels), (2) study the potential impact of these communications on peoples' tobacco-related attitudes, risk perceptions, and behaviors, and (3) develop effective communications to improve public health and tobacco control policies. Much of her research is geared towards informing tobacco control policy, including FDA regulation of tobacco (i.e., tobacco regulatory science).
She has a particular interest in communication about and perceptions of certain tobacco products such as smokeless tobacco and e-cigarettes, which may pose reduced or modified health risks compared to cigarette smoking. This interest dates back to her early exposure to tobacco "harm reduction" debates at professional conferences during her training. Currently she is combining her research interests in smokeless tobacco and e-cigarettes, modified risk messages, warning labels, and consumer perceptions in a new NCI-funded grant, where she is designing and testing the impact of various modified risk messages in two channels (ads and fact sheets) on product perceptions and use intentions. In addition to the message content, she will be considering the location/placement of the modified risk messages (e.g., proximity to warning labels) and the perceived source of these messages (e.g., industry or government) on outcomes such as message recall and credibility. This work is timely, given the increasing demand - from researchers and tobacco companies - for more accurate communication about comparative tobacco product risks but limited research to date on this topic.
---
As a college student I remember being moved and inspired by the new, innovative and hard-hitting visuals and messages from the first wave of the national anti-smoking "Truth" campaign - I knew then that public health and tobacco control was something I wanted to focus on and be a part of. "