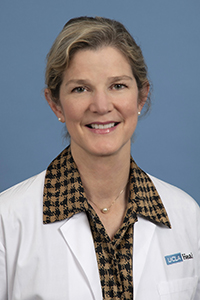 Joann G. Elmore, M.D., M.P.H.
Physician
BBPSB FEATURED GRANTEE
Organization:
University of California - Los Angeles
Current Title
Professor of Medicine, Division of General Internal Medicine and Health Services Research
University of California - Los Angeles (UCLA)
Describe your scientific identity.
I have a longstanding interest in the topic of cancer screening, diagnostic accuracy, and technology. Over the past 20 years, my research programs have expanded scientific understanding of the most effective methods to study diagnostic accuracy, including potential patient, physician, technology, and system factors associated with accuracy.
What are your research interests?
Diagnostic accuracy, cancer screening, medical technology, machine learning, artificial intelligence, statistical methods, patient engagement, health care delivery, medical education, and health IT.
What is the significance of your current research project?
A pathologist's diagnosis of cancer is the result of human visual perception and cognitive processing of complex histopathology images. Our study, "Reader Accuracy in Pathology Interpretation and Diagnosis: Perception and Cognition" (RAPID-PC), will contribute to understanding how diagnostic pathology expertise develops over time. We will also evaluate the types of diagnostic errors made by both residents in training and experienced pathologists when interpreting breast biopsy images.
What motivated you to work in biobehavioral or psychological science research?
As a practicing physician, I have always been intrigued by the complexities of clinical care and variability in diagnostic accuracy.
Describe something that had a profound influence on your program of research or scientific interests (an "ah-ha!" moment).
My personal experience with a melanoma scare altered the focus of my research as a scientist. I received three different interpretations on the same skin biopsy, ranging from benign to invasive melanoma (thankfully, it was not melanoma; see BMJ 2017
). Prior to this experience, I had spent a decade evaluating variability among radiologists' interpretations of mammograms. Based on my personal experience as a patient, I decided to expand my research from radiology to pathology to turn the microscope back on ourselves (the physicians), and to see how we can improve diagnostic accuracy and patient outcomes.
Selected training, awards, and honors:

1990-1992: Robert Wood Johnson Foundation Clinical Scholar, Yale School of Medicine, New Haven, CT
1990-1992: MPH, Yale University, School of Epidemiology and Public Health
2004-2009: American Society for Clinical Investigation (ASCI) Elected Member
2017: John M. Eisenberg National Award for Career Achievement in Research (Awarded to one individual each year by the Society of General Internal Medicine)
---
Based on my personal experience as a patient, I decided to expand my research from radiology to pathology to turn the microscope back on ourselves (the physicians), and to see how we can improve diagnostic accuracy and patient outcomes."