Staff: Amanda Vogel, Ph.D., M.H.S.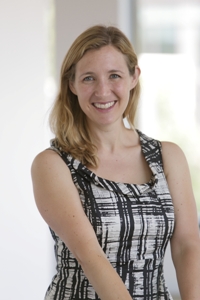 Amanda Vogel, Ph.D., M.H.S.
Contractor, Leidos Biomedical Research, Inc.
Former Organization:
Amanda L. Vogel is a Behavioral Scientist with Leidos Biomedical Research, Inc. (Formerly SAIC-Frederick, Inc.), providing full-time support to the Science of Research and Technology Branch (SRTB) in the Behavioral Research Program (BRP) at the National Cancer Institute (NCI).
Dr. Vogel's current research interests are in four areas: 1) Team Science -- including understanding the added value of team-based interdisciplinary research compared to single investigator initiated research, as well as understanding what individual, team, and institutional factors can maximize the efficiency and effectiveness of team-based research; 2) Accrual to cancer clinical trials -- in particular, understanding the related influences of practice environment, trial design, and psychosocial factors on whether physicians offer cancer treatment clinical trials to their patients; 3) Community engagement in research and education, including community-based participatory research (CBRP), "citizen science", and community-engaged training of health professions students; and 4) Mixed-methods research, particularly evaluation research, using such methods as interviewing, document analysis, expert panels, participant observation, survey, and bibliometrics.
At NCI, Dr. Vogel uses mixed methods research to explore the unique processes and outcomes of NCI supported transdisciplinary center grant initiatives such as the Transdisciplinary Research on Energetics and Cancer Centers (TREC) initiative. She provides leadership for the Team Science Toolkit , an interactive website that consolidates and disseminates knowledge, information and resources to enhance team-based research. She also develops conceptual scholarship around maximizing the processes and outcomes of team-based research. Finally, Dr. Vogel also provides leadership for a survey research project to examine the cognitive, emotional, and motivational factors that influence oncologists' decisions to offer cancer clinical trials to their patients.
Dr. Vogel holds a Doctoral degree in Health Policy and Management from the Johns Hopkins University Bloomberg School of Public Health, and a Master's degree in Health and Social Behavior from the Harvard School of Public Health.
Current and/or past BRP mentors include Kara Hall.
---
Selected Publications and Presentations
Vogel AL, Stipelman BA, Hall K, Stokols D, Nebeling L, and Spruijt-Metz D. Pioneering the transdisciplinary team science approach: Lessons learned from National Cancer Institute grantees. Journal of Translational Medicine and Epidemiology 2014 Aug 2; 2(2):1027-1027.
Stokos, D., Hall, K.L., Vogel, A.L. Transdisciplinary Public Health: Definitions, Core Characteristics, and Strategies for Success. Transdisciplinary Public Health: Research, Education, and Practice 2013:3-30.
Vogel AL, Hall K, Fiore SM, Klein JT, Bennett LM, Gadlin H, Stokols D, Nebeling LC, Wuchty S, Patrick K, Spotts EL, Pohl C, Riley WT, and Falk-Krzesinski HJ. The National Cancer Institute's Team Science Toolkit. The Team Science Toolkit: enhancing research collaboration through online knowledge sharing. Am J Prev Med 2013; 4(6):787-789.
Vogel AL, Feng A, Oh A, Hall KL, Stipelman B, Okamoto J, Stokols D, Moser RP, Perna F, & Nebeling L. Influence of a National Cancer Institute transdisciplinary research and training initiative on trainee's collaborative orientation, research skills, and scholarly productivity. Transl Behav Med 2012; 2(4):459-468.
Hall, K. L., Vogel, A. L., Stokols D., Morgan, G., & Gelhert, S. A four-phase model of transdisciplinary research: Goals, team processes, and strategies. Transl Behav Med 2012; 2(4).