Staff: Abby Prestin, Ph.D., M.A.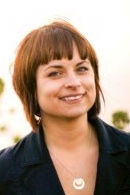 Abby Prestin, Ph.D., M.A.
Former Fellow, Transitioned Outside of the Program

Fellow - Cancer Research Training Award Fellow
Former Organization:
In Memoriam>
Abby Prestin, Ph.D., M.A., (1980-2014), was a post-doctoral CRTA fellow in the Behavioral Research Program (BRP) from 2011-13, where she was a prolific scientist. In her short time with the Health Communication and Informatics Research Branch (HCIRB), she and colleagues published more than 10 scholarly papers in the areas of social media and new technologies, cancer survivorship, obesity and stigma, and emotion and health. She examined the interplay between cognition and emotion in understanding the effects of health messages, issues of stress and coping for cancer survivors, and the utilization of emotion theory to inform the design media-based positive psychology interventions. Abby also explored the ways in which social media are changing the media landscape and the implications of these changes on health communication efforts.
Abby completed her undergraduate studies in journalism at New York University, and she worked at the Yale Child Study Center after college. Her mother's untimely passing from colon cancer inspired her goal of helping to ease the burden of illness on families and loved ones, and she went on to earn her Master's and Doctorate degrees in Health Communication from the University of California at Santa Barbara. Her dissertation tested the capacity of different genres of media content to evoke discrete positive emotional experiences (e.g., amusement, hope) that differentially facilitate stress reduction and engagement in cognitive and behavioral coping strategies.
After her postdoctoral fellowship at the National Cancer Institute, Abby worked as a social scientist at the Center for Tobacco Products at the Food and Drug Administration. Outside of her scholarly research ("Write Date" in cafes was one of her favorite activities to do with fellow scholars), Abby was an avid musician (a bass player), reader, baseball fan, and dog lover. Abby was diagnosed with lymphoma in 2013. During her yearlong struggle, she inspired everyone around her to perform random acts of kindness and live life to the fullest—two legacies that her circle of family and friends continue to carry on and share stories about. She is survived by her loving husband, Tom Hogan, and friends and family. All whose lives were touched by Abby remember her for her zest for knowledge toward the goal of alleviating suffering, and having good humor, generosity, and a kind heart.
Current and/or past BRP mentors include Wen-Ying Sylvia Chou and Kelly Blake.
---
Selected Publications and Presentations