Staff: Chan Thai, Ph.D., M.P.H.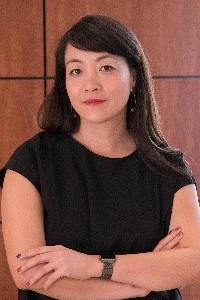 Chan Thai, Ph.D., M.P.H.
Former Fellow, Transitioned Outside of the Program

Fellow - Cancer Research Training Award Fellow
Former Organization:
Chan Thai, Ph.D., M.P.H., was a Cancer Research Training Award Fellow in the Health Communication and Informatics Research Branch (HCIRB) within the Behavioral Research Program (BRP) from August 2014 to July 2016. She earned her Ph.D. in Communication from the University of California, Santa Barbara, and her Master of Public Health from the Fielding School of Public Health at the University of California, Los Angeles. She also earned her Bachelor of Arts with a double major in Mass Communication and Social Welfare from the University of California, Berkeley.
Dr. Thai is interested in nutrition and physical activity outcomes as they relate to cancer prevention and control and the way our media environment contributes to knowledge, attitudes, and beliefs that shape these outcomes. She is fascinated by cognitive processes that occur in the mind and how these work within our message environment to impact our decisions about food and physical activity and other health behaviors. In pursuit of these interests, she has worked on the development, implementation, and evaluation of nutrition education programs; content analysis studies of various media content; scale development and validation; and survey data analysis. Her mixed-method dissertation was focused on the topic of media literacy; she developed a theoretically-based scale to measure media literacy knowledge and skills. She has also engaged in research on the topics of end-of-life communication, palliative care, and the impact of video and computer games on health.
During her fellowship, Dr. Thai worked with April Oh on multiple projects related to behavioral correlates of nutrition and physical activity outcomes, including the Family Life, Activity, Sun, Health, and Eating (FLASHE) Study and the Health Information National Trends Survey (HINTS). Her projects also explored the impact of social media and digital literacy on these outcomes, as well as public health and cancer communication campaigns for obesity prevention and physical activity promotion.
---
"Where are they now?": Following up with past BRP fellows
Updated January 2019
Current Title
Assistant Professor, Department of Communication
Santa Clara University
How has your BRP fellowship influenced your career?
The BRP fellowship was instrumental in helping me determine the best type of academic institution for me. I was unsure what direction I wanted to take after I completed my Ph.D., and the wonderful mentorship I received as a fellow really allowed me to understand how my own professional goals could be achieved in different types of positions and institutions. The training I received in secondary data analysis also really rounded out my skill set, and the many research projects I worked on further helped me hone my skills in designing studies of the right size and scope for a journal publication.
Describe a favorite memory or two from your fellowship experience.
Most of my favorite memories from my fellowship relate to the friends I made and the community I felt a part of while in BRP. I remember taking a road trip with another fellow, Tracey Goldner, to visit a fellow who had recently transitioned to an academic position in Ohio. We left the office together on a Friday afternoon and really bonded on that trip. I remember having afternoon tea once a week with another fellow where we'd just check in and see how each other was doing.
Describe your current position, your current organization, and what you do.
I am an Assistant Professor in the Department of Communication at Santa Clara University. SCU is a private, Jesuit, comprehensive liberal arts university in the San Francisco Bay Area. I teach classes on Communication and Technology, Health Campaign Design and Evaluation, Quantitative Research Methods, and Media Literacy. My research focuses on cognitive predictors of health behaviors, the design and evaluation of interventions for behavior change, and the effects of messaging on health cognitions and behaviors.
Awards, Honors, and Recognitions

Dean's Service Award, College of Arts and Sciences, Santa Clara University (Fall 2018)
Publications from Fellowship Work

Current and/or past BRP mentors include April Oh.