Staff: Erin M. Ellis, Ph.D., M.P.H.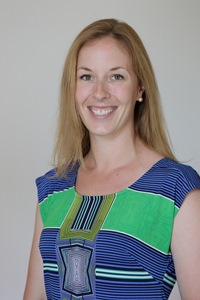 Erin M. Ellis, Ph.D., M.P.H.
Former Fellow, Transitioned Outside of the Program

Cancer Prevention Fellow
Former Organization:
Erin M. Ellis, Ph.D., M.P.H., was a Cancer Prevention Fellow in the Basic Biobehavioral and Psychological Sciences Branch (BBPSB) of the Behavioral Research Program from September 2015 to January 2019.
Dr. Ellis earned her doctorate in Community Health and Health Behavior from the State University of New York at Buffalo and earned her M.P.H. from the Johns Hopkins Bloomberg School of Public Health. She also holds an M.S. in Higher Education Administration from the University of Rochester, and a B.A. in Psychology from the State University of New York at Geneseo.
Dr. Ellis' research interests center on health decision-making, particularly the interplay between cognitive and affective factors as joint predictors of health behaviors, and the integration of dual process theories of cognition with health decision-making models.
Her empirical work involves utilizing innovative experimental methodologies to measure and change affect and emotion in order to elucidate the decision-making mechanisms driving a range of health behaviors, from the behavioral choices contributing to cancer risk through the process of care following an illness diagnosis. Dr. Ellis is also interested in how affect and emotion influence risk perceptions, information processing, and other facets of decision-making.
---
"Where are they now?": Following up with past BRP fellows
Updated February 2020
Current Title
Social Scientist
FDA Center for Tobacco Products
How has your BRP fellowship influenced your career?
As a BRP fellow, I had the opportunity to conduct innovative research with leading behavioral scientists, hone methodological and statistical skills, and develop an understanding and appreciation for the role of federal funding agencies in shaping a national research agenda.
Describe a favorite memory or two from your fellowship experience.
As a Cancer Prevention Fellow, I enjoyed our weekly research meetings during which other fellows and nationally renowned scientists presented their work and engaged in interesting and thought-provoking conversations.
Describe your current position, your current organization, and what you do.
I am a Social Scientist in the FDA's Center for Tobacco Products. I work with a multidisciplinary group of scientists responsible for conducting and evaluating programs of research related to tobacco product regulation.
Awards, Honors, and Recognitions

Cancer Prevention Fellowship Program Merit Award, 2017
Publications from Fellowship Work

Current and/or past BRP mentors include Rebecca Ferrer and William Klein.

Current and/or past BRP mentees include Jessica Welch.