Staff: Christopher Wheldon, Ph.D.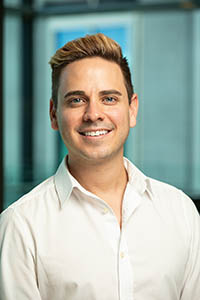 Christopher Wheldon, Ph.D.
Former Fellow, Transitioned Outside of the Program

Cancer Prevention Fellow
Former Organization:
Office of the Associate Director (OAD)
Christopher Wheldon, Ph.D., is a behavioral scientist working on reducing cancer disparities in underserved and socially marginalized populations. Central to this focus is his consideration of how individual, interpersonal, and organizational factors influence cancer-related risk (e.g., tobacco use) and preventive health behaviors (e.g., HPV vaccination, cancer screening). He also studies the experiences and psychosocial needs of cancer survivors in an effort to improve the quality of life of survivors and their families.
Dr. Wheldon completed a Cancer Prevention Fellowship with the Behavioral Research Program and is currently serving as a Special Volunteer. As a Cancer Prevention Fellow, he planned to extend his program of research to include a focus on novel theoretical and methodological approaches to health behavior and education across the cancer control continuum. The role of social media as a source of public health data and a mode of intervention delivery was a particular interest.
Dr. Wheldon completed a Ph.D. in community and family health from the College of Public Health at the University of South Florida. As a doctoral student he received the Ruth L. Kirschstein National Research Service Award from the National Cancer Institute to support his training and research in cancer disparities.
In August 2019, Dr. Wheldon became an assistant professor in Temple University's College of Public Health.
---
"Where are they now?": Following up with past BRP fellows
Updated May 2020
Current Title
Assistant Professor
Temple University College of Public Health
How has your BRP fellowship influenced your career?
My time as a fellow in the Behavioral Research Program provided me with many opportunities to address cancer disparities among underserved populations at the national level and to establish productive collaborations with researchers across the NIH.
Describe a favorite memory or two from your fellowship experience.
I have so many fond memories from my time in the BRP. The comradery among the program staff is infectious. They go out of their way to make all of the fellows feel welcomed and supported. I left the program with amazing collogues and life-long friends.
Describe your current position, your current organization, and what you do.
I am an Assistant Professor in the Department of Social and Behavioral Sciences at the Temple University College of Public Health. My research focuses on improving cancer prevention and cancer care delivery for sexual and gender minority populations.
Awards, Honors, and Recognitions

Sexual & Gender Minority Community and Ally Leader Award, National Institutes of Health, 2019
Publications from Fellowship Work

Martinasek MP, Haddad LG, Wheldon CW, Barnett TE. Beliefs and Attitudes Associated With Hookah Smoking Among a United States College Population. Respir Care. 2017 Mar;62(3):370-379.
Schabath MB, Curci MB, Kanetsky PA, Vadaparampil ST, Simmons VN, Sanchez JA, Sutton SK, Wheldon C, Quinn GP. Ask and Tell: The Importance of the Collection of Sexual Orientation and Gender Identity Data to Improve the Quality of Cancer Care for Sexual and Gender Minorities. J Oncol Pract. 2017 Aug;13(8):542-546.
Wheldon CW, Sutton SK, Fontenot HB, Quinn GP, Giuliano AR, Vadaparampil ST. Physician Communication Practices as a Barrier to Risk-Based HPV Vaccine Uptake Among Men Who Have Sex with Men. J Cancer Educ. 2018 Oct;33(5):1126-1131.
Wheldon CW, Kaufman AR, Kasza KA, Moser RP. Tobacco Use Among Adults by Sexual Orientation: Findings from the Population Assessment of Tobacco and Health Study. LGBT Health. 2018 Jan;5(1):33-44.
Wheldon CW, Schabath MB, Hudson J, Bowman Curci M, Kanetsky PA, Vadaparampil ST, Simmons VN, Sanchez JA, Sutton SK, Quinn GP. Culturally Competent Care for Sexual and Gender Minority Patients at National Cancer Institute-Designated Comprehensive Cancer Centers. LGBT Health. 2018 Apr;5(3):203-211.
Martinasek MP, Bowersock A, Wheldon CW. Patterns, Perception and Behavior of Electronic Nicotine Delivery Systems Use and Multiple Product Use Among Young Adults. Respir Care. 2018 Jul;63(7):913-919.
Wheldon CW, Roberts MC, Boehmer U. Differences in Coping with Breast Cancer Between Lesbian and Heterosexual Women: A Life Course Perspective. J Womens Health (Larchmt). 2019 Aug;28(8):1023-1030.
Wheldon CW, Krakow M, Thompson EL, Moser RP. National Trends in Human Papillomavirus Awareness and Knowledge of Human Papillomavirus-Related Cancers. Am J Prev Med. 2019 Apr;56(4):e117-e123.
Roberts MC, Krakow M, Wheldon CW, Silver MI. Differences in Family Health History Knowledge Among Bisexual and Lesbian Women. LGBT Health. 2019 Apr;6(3):134-137.
Wheldon CW, Wiseman KP. Tobacco Use Among Transgender and Gender Non-conforming Adults in the United States. Tob Use Insights. 2019 May 23;12:1179173X19849419.
Hernandez ND, Daley EM, Young L, Kolar SK, Wheldon C, Vamos CA, Cooper D. HPV Vaccine recommendations: does a health care provider's gender and ethnicity matter to Unvaccinated Latina college women? Ethn Health. 2019 Aug;24(6):645-661.
Wheldon CW, Watson RJ, Fish JN, Gamarel K. Cigarette Smoking Among Youth at the Intersection of Sexual Orientation and Gender Identity. LGBT Health. 2019 Jul;6(5):235-241.
Kent EE, Wheldon CW, Smith AW, Srinivasan S, Geiger AM. Care delivery, patient experiences, and health outcomes among sexual and gender minority patients with cancer and survivors: A scoping review. Cancer. 2019 Dec 15;125(24):4371-4379.
Wheldon CW, Daley EM, Buhi ER, Baldwin JA, Nyitray AG, Giuliano AR. HPV vaccine decision-making among young men who have sex with men. Health Education Journal. 2017 76(1).
Wheldon CW, Daley EM, Walsh-Buhi ER, Baldwin JA, Nyitray AG, Giuliano AR. An Integrative Theoretical Framework for HPV Vaccine Promotion Among Male Sexual Minorities. Am J Mens Health. 2018 Sep;12(5):1409-1420.
Wheldon CW, Hoffman L, Keely O'Brien E, Delahanty J, Zhao X, Kaufman AR, Moser RP. The role of sexual identity in tobacco information–seeking behaviours and perceptions. Health Education Journal. 2019 78(2), 203–213.
Roberts MC, Murphy T, Moss JL, Wheldon CW, Psek W. A Qualitative Comparative Analysis of Combined State Health Policies Related to Human Papillomavirus Vaccine Uptake in the United States. Am J Public Health. 2018 Apr;108(4):493-499.
Thompson EL, Wheldon CW, Vamos CA, Griner SB, Daley EM. How Is Health Literacy Related to Pap Testing Among US Women? J Cancer Educ. 2019 Aug;34(4):789-795.
Martinasek MP, White RM, Wheldon CW, Gibson-Young L. Perceptions of non-traditional tobacco products between asthmatic and non-asthmatic college students. J Asthma. 2019 May;56(5):498-504.
Watson RJ, Wheldon CW, Puhl RM. Evidence of Diverse Identities in a Large National Sample of Sexual and Gender Minority Adolescents. J Res Adolesc. 2020 Feb;30 Suppl 2:431-442.
Current and/or past BRP mentors include Richard Moser.