Staff: Christopher Wheldon, Ph.D.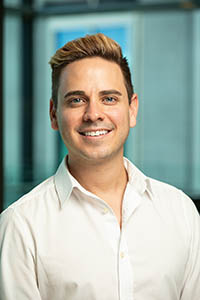 Christopher Wheldon, Ph.D.
Former Fellow, Transitioned Outside of the Program

Cancer Prevention Fellow
Former Organization:
Office of the Associate Director (OAD)
Christopher Wheldon, Ph.D., is a behavioral scientist working on reducing cancer disparities in underserved and socially marginalized populations. Central to this focus is his consideration of how individual, interpersonal, and organizational factors influence cancer-related risk (e.g., tobacco use) and preventive health behaviors (e.g., HPV vaccination, cancer screening). He also studies the experiences and psychosocial needs of cancer survivors in an effort to improve the quality of life of survivors and their families.
Dr. Wheldon completed a Cancer Prevention Fellowship with the Behavioral Research Program and is currently serving as a Special Volunteer. As a Cancer Prevention Fellow, he planned to extend his program of research to include a focus on novel theoretical and methodological approaches to health behavior and education across the cancer control continuum. The role of social media as a source of public health data and a mode of intervention delivery was a particular interest.
Dr. Wheldon completed a Ph.D. in community and family health from the College of Public Health at the University of South Florida. As a doctoral student he received the Ruth L. Kirschstein National Research Service Award from the National Cancer Institute to support his training and research in cancer disparities.
In August 2019, Dr. Wheldon became an assistant professor in Temple University's College of Public Health.
Current and/or past BRP mentors include Richard Moser.
---
Research Areas
Health disparities
Cancer prevention
Culturally responsive cancer care
Underserved populations
Mixed methods research
---
Selected Publications and Presentations
Wheldon CW, Schabath MB, Hudson J, Bowman Curci M, Kanetsky PA, Vadaparampil ST, Simmons VN, Sanchez JA, Sutton SK, Quinn GP. Culturally Competent Care for Sexual and Gender Minority Patients at National Cancer Institute-Designated Comprehensive Cancer Centers. LGBT Health 2018 Apr; 5(3):203-211.
Wheldon CW, Kaufman AR, Kasza KA, Moser RP. Tobacco Use Among Adults by Sexual Orientation: Findings from the Population Assessment of Tobacco and Health Study. LGBT Health 2018 Jan; 5(1):33-44.
Wheldon CW, Sutton SK, Fontenot HB, Quinn GP, Giuliano AR, Vadaparampil ST. Physician Communication Practices as a Barrier to Risk-Based HPV Vaccine Uptake Among Men Who Have Sex with Men. J Cancer Educ 2017 Apr; 29.