Staff: Kasey Morris, Ph.D., M.A.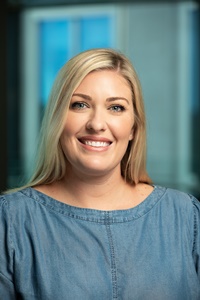 Kasey Morris, Ph.D., M.A.
Former Fellow, Transitioned Outside of the Program

Cancer Research Training Award Fellow
Former Organization:
Kasey Morris, Ph.D., M.A., was a Cancer Research Training Award postdoctoral fellow in the Health Behaviors Research Branch (HBRB) within the Behavioral Research Program (BRP). Dr. Morris earned a Ph.D. and a master's degree in social psychology from the University of South Florida. She has a bachelor's degree in English literature from Florida State.
Dr. Morris' research focuses on the role of self and identity in health behaviors. She uses social psychological theories to understand why people engage in risky behavior, despite knowing about the risk. Using these insights, she has developed interventions to promote positive behavior change.
In addition, she's also interested in studying why people engage in healthy behavior. A growing body of evidence suggests that health behaviors are motivated not by proximal motivation such as maintaining good health but rather by distal motivations such as maintaining and restoring self-esteem, self-integrity, and identity. In recent research, Dr. Morris worked on a team that designed interventions that target the esteem or identity relevance of a behavior and found that it produces positive behavior changes such as increased exercise, sun protection, and smoking cessation.
In October 2018, Dr. Morris became a senior research scientist at Surgo Foundation in Washington, D.C.
Current and/or past BRP mentors include Frank Perna.
---
Selected Publications and Presentations
Morris KL, Perna FM. Decision tree model of sun protection. JAMA Dermatol .
Morris KL, Goldenberg JL, Arndt J, McCabe S. The enduring influence of death on health: Insights from the terror management health model. Self and Identity .
Morris KL, Perna FM, Luke MC. Skin cancer examination among indoor tanning bed users. JAMA Dermatol .
Morris KL, Cooper DP, Goldenberg JL, Arndt J, Gibbons FX. Improving the efficacy of appearance-based sun exposure interventions with the terror management health model. Psychol Health 2014; 29(11):1245-64.