Staff: Emily Peterson, Ph.D.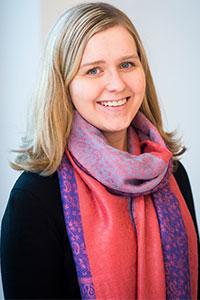 Emily Peterson, Ph.D.
Former Fellow, Transitioned Outside of the Program

Cancer Research Training Award Fellow
Former Organization:
Emily Peterson, Ph.D., was a Cancer Research Training Award Post-Doctoral Fellow in the Health Communication and Informatics Research Branch (HCIRB) within the Behavioral Research Program (BRP) of the Division of Cancer Control and Population Sciences (DCCPS). Improving the patient-provider relationship is the driving force of her research, with her past work focused on patient-centered care throughout the cancer continuum, cancer screening discussions, and pediatrician-adolescent counseling about nicotine and tobacco. She is also interested in message framing/persuasion theories and the effect of self-affirmation on adolescents' responses to public health messaging.
Dr. Peterson earned a Ph.D. in communication from George Mason University. Her dissertation used a mixed-methods approach to develop a training curriculum for primary care providers to discuss electronic cigarette with adolescent patients. She also holds a bachelor's degree in communications from Brigham Young University, where her honors thesis utilized eye-tracking methodology to assess adolescents' attention to graphic- and text-based tobacco warning labels.
Current and/or past BRP mentors include Wen-Ying Sylvia Chou.
---
Selected Publications and Presentations
Peterson EB, Ostroff JS, DuHamel KN, D'Agostino TA, Hernandez M, Canzona MR, Bylund CL. Impact of provider-patient communication on cancer screening adherence: A systematic review. Prev Med 2016 Dec; 93:96-105.
Peterson, E. B., Shen, M., Weber, J. G., & Bylund, C. The effect of internet use on the doctor-cancer patient relationship. Oxford Textbook of Communication in Oncology and Palliative Care 2016.
Shen, M.J., Peterson, E.B., Costas-Muniz, R. et al. The Effects of Race and Racial Concordance on Patient-Physician Communication: A Systematic Review of the Literature. J Racial Ethn Health Disparities 2017.
Peterson EB, Chou WS, Gaysynsky A, Krakow M, Elrick A, Khoury MJ, Kaphingst KA. Communication of cancer-related genetic and genomic information: A landscape analysis of reviews. Transl Behav Med 2018 Jan 29; 8(1):59-70.
Peterson EB, Fisher CL, Zhao X Pediatric primary healthcare providers' preferences, experiences, and perceived barriers to discussing electronic cigarettes with adolescent patients. J Commun Healthc 2018.