Staff: Emily Peterson, Ph.D.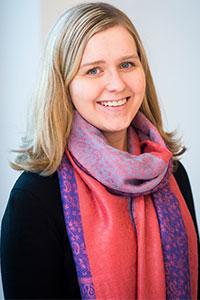 Emily Peterson, Ph.D.
Former Fellow, Transitioned Outside of the Program

Cancer Research Training Award Fellow
Former Organization:
Emily Peterson, Ph.D., was a Cancer Research Training Award Post-Doctoral Fellow in the Health Communication and Informatics Research Branch (HCIRB) within the Behavioral Research Program (BRP) of the Division of Cancer Control and Population Sciences (DCCPS). Improving the patient-provider relationship is the driving force of her research, with her past work focused on patient-centered care throughout the cancer continuum, cancer screening discussions, and pediatrician-adolescent counseling about nicotine and tobacco. She is also interested in message framing/persuasion theories and the effect of self-affirmation on adolescents' responses to public health messaging.
Dr. Peterson earned a Ph.D. in communication from George Mason University. Her dissertation used a mixed-methods approach to develop a training curriculum for primary care providers to discuss electronic cigarette with adolescent patients. She also holds a bachelor's degree in communications from Brigham Young University, where her honors thesis utilized eye-tracking methodology to assess adolescents' attention to graphic- and text-based tobacco warning labels.
---
"Where are they now?": Following up with past BRP fellows
Updated April 2020
Current Title
Senior Research Analyst
University of Southern California (USC)
How has your BRP fellowship influenced your career?
The mentoring and research opportunities at NCI and BRP are phenomenal. I was engaged in a variety of challenging projects that allowed me to expand my research interests, practice leadership skills, learn new methodological techniques, and gain a deeper understanding of how our work can alleviate the suffering caused by cancer. All of these skills have been immensely helpful as I move forward in my career.
Describe a favorite memory or two from your fellowship experience.
One of the things I most appreciated about my time in BRP was the strong sense of community and comradery that I felt from the first day of my fellowship. Some of my strongest memories are from the wonderful events thoughtfully planned by NCI leadership, such as fellows' hikes, Pi(e) Day celebrations, and branch lunches. I always knew that both my mentor and program leadership cared deeply about fellows and wanted us to have a fulfilling experience - both professionally and socially.
Describe your current position, your current organization, and what you do.
I am a Senior Research Analyst for USC Annenberg's Norman Lear Center, a nonpartisan research and public policy center that studies the social, political, economic and cultural impact of entertainment on the world. In this role, I oversee the Center's statistical analyses, survey development, and data interpretation for a variety of grant-funded projects, including grants grounded in the social determinants of health framework.
Publications from Fellowship Work

Peterson EB, Chou WS, Kelley DE, Hesse B. Trust in national health information sources in the United States: comparing predictors and levels of trust across three health domains. Transl Behav Med 2019 May 22.
Peterson EB, Fisher CL, Zhao X. Pediatric primary healthcare providers' preferences, experiences, and perceived barriers to discussing electronic cigarettes with adolescent patients. J Commun Healthc 2018.
Peterson EB, Chou WS, Gaysynsky A, Krakow M, Elrick A, Khoury MJ, Kaphingst KA. Communication of cancer-related genetic and genomic information: A landscape analysis of reviews. Transl Behav Med 2018 Jan 29; 8(1):59-70.
Peterson EB, Ostroff JS, DuHamel KN, D'Agostino TA, Hernandez M, Canzona MR, Bylund CL. Impact of provider-patient communication on cancer screening adherence: A systematic review. Prev Med 2016 Dec; 93:96-105.
Peterson, E. B., Shen, M., Weber, J. G., & Bylund, C. The effect of internet use on the doctor-cancer patient relationship. Oxford Textbook of Communication in Oncology and Palliative Care 2016.
Current and/or past BRP mentors include Wen-Ying Sylvia Chou.