Staff: Calvin P. Tribby, Ph.D., M.P.H., M.S.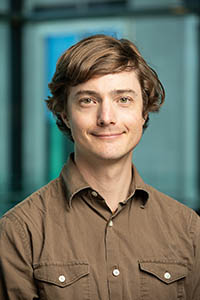 Calvin P. Tribby, Ph.D., M.P.H., M.S.
Former Fellow, Transitioned Outside of the Program

Cancer Prevention Fellow
Former Organization:
Calvin Tribby, Ph.D., M.P.H., M.S., is a Cancer Prevention Fellow in the Health Behaviors Research Branch. Dr. Tribby's research is situated at the intersection of transportation systems, human geography, and public health. His research focuses on how the built environment and transportation systems support or deter physical activity and how these can address the obesity epidemic.
Dr. Tribby is interested in the benefits of built environment interventions designed to increase walking, bicycling, and public transportation use on population physical activity levels. He is also interested in refining geographic analysis methods for assessing the link between the built environment, physical activity, and obesity.
Dr. Tribby earned an M.P.H. in biostatistics from the Mailman School of Public Health at Columbia University. He earned a Ph.D. in geography from the Ohio State University. For his dissertation, Dr. Tribby refined spatial units and built environment summaries for visualizing walkability, assessed attributes of the built environment for explaining walking route choice, and estimated the effect of different spatial neighborhoods and measures on walking trips. He received a Dissertation Fellowship from the National Institute of Transportation and Communities in support of his work. Dr. Tribby also holds a master's degree in geography and a bachelor's degree in mathematics from the University of New Mexico.
Current and/or past BRP mentors include David Berrigan.