Staff: Camella J. Rising, Ph.D., M.S., R.D.N.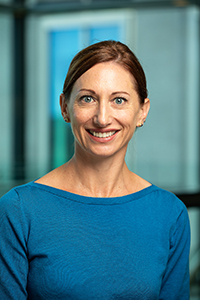 Camella J. Rising, Ph.D., M.S., R.D.N.
Former Fellow, Transitioned Outside of the Program

Cancer Research Training Award Fellow
Former Organization:
Camella Rising, Ph.D., M.S., R.D.N., was a Cancer Research Training Award fellow in the Health Communication and Informatics Research Branch from 2018-2021.
Dr. Rising's research focused on health, family, and lifespan communication in the context of prostate cancer, breast cancer, and hereditary cancer predisposition syndromes. She was specifically interested in the way individuals and families navigate and integrate offline and online health information and social support into cancer preventive behaviors and family communication about cancer, risk, and prevention.
Dr. Rising earned a Ph.D. in communication from George Mason University. Her dissertation used a mixed-method design to investigate fathers' and adult sons' communication motivations, challenges, and approaches in response to prostate cancer diagnosis and familial risk.
Dr. Rising is a registered dietitian nutritionist (R.D.N.). She holds a master's degree in nutritional sciences from San Diego State University and a bachelor's degree in biology from University of California, San Diego.
---
"Where are they now?": Following up with past BRP fellows
Updated June 2021
Current Title
Research Fellow
Clinical Genetics Branch, Division of Cancer Epidemiology and Genetics, NCI
How has your BRP fellowship influenced your career?
While a fellow in BRP, abundant opportunities to collaborate across Divisions and Branches of NCI allowed me to apply my clinical and research experience and interests in ways I never imagined possible! I owe so much to my BRP mentors for investing in me. I still pinch myself that I'm on a path to developing a research career within an esteemed institution that is home to brilliant individuals from so many walks of life.
Describe a favorite memory or two from your fellowship experience.
Having the chance to connect with warm, smart, caring, intelligent, and dedicated colleagues and friends within NCI is a part of every wonderful memory associated with my BRP fellowship!
Describe your current position, your current organization, and what you do.
I work primarily under the mentorship of Sharon A. Savage, M.D., Chief and senior investigator, and Payal Khincha, M.B.B.S., M.S.H.S., physician-scientist early investigator, on behavioral and psychosocial studies of individuals and families in clinical family studies. My work focuses on developing a better understanding of health behaviors, communication behaviors, and psychosocial needs of individuals and families living with cancer predisposition syndromes, such as Li-Fraumeni syndrome and dyskeratosis congenita, and related telomere biology disorders.
Publications from Fellowship Work

Krakow M, Rising CJ, Trivedi N, Yoon D, & Vanderpool RC. Prevalence and correlates of family cancer history knowledge and communication among U.S. adults: Findings from the 2018 NCI Health Information National Trends Survey. Preventing Chronic Disease. 2020
Rising CJ, Jensen RE, Moser RP, Oh A. Characterizing the US Population by Patterns of Mobile Health Use for Health and Behavioral Tracking: Analysis of the National Cancer Institute's Health Information National Trends Survey Data. J Med Internet Res. 2020 May 14;22(5):e16299.
Peterson EB, Chou WS, Rising C, Gaysynsky A. The Role and Impact of Health Literacy on Peer-to-Peer Health Communication. Stud Health Technol Inform. 2020 Jun 25;269:497-510.
Current and/or past BRP mentors include Robin Vanderpool.
---
Selected Publications and Presentations