Staff: Camella Rising, Ph.D., M.S., R.D.N.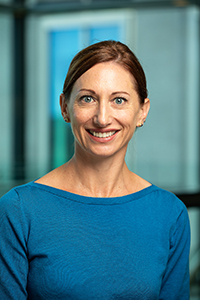 Camella Rising, Ph.D., M.S., R.D.N.
Current Fellow

Cancer Research Training Award Fellow
Organization:
Contact:
camella.rising@nih.gov
240-276-5262
Camella Rising, Ph.D., M.S., R.D.N., is a Cancer Research Training Award fellow in the Health Communication and Informatics Research Branch.
Dr. Rising's research is focused on health, family, and lifespan communication in the context of prostate cancer, breast cancer, and hereditary cancer predisposition syndromes. She has a strong research interest in the way individuals and families navigate and integrate offline and online health information and social support into cancer preventive behaviors and family communication about cancer, risk, and prevention.
Dr. Rising earned a Ph.D. in communication from George Mason University. Her dissertation used a mixed-method design to investigate fathers' and adult sons' communication motivations, challenges, and approaches in response to prostate cancer diagnosis and familial risk.
Dr. Rising is a registered dietitian nutritionist (R.D.N.). She holds a master's degree in nutritional sciences from San Diego State University and a bachelor's degree in biology from University of California, San Diego.
Current and/or past BRP mentors include Robin Vanderpool and April Oh.
---
Research Areas
Family health and cancer communication across the life span
Communication and uncertainty management
Nutrition and physical activity behavior
Digital health
Social support
---
Selected Publications and Presentations