Staff: Alexandra R. Budenz, Dr.P.H., M.A.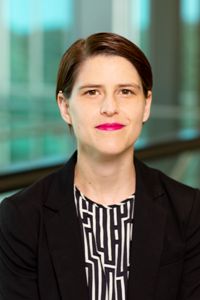 Alexandra R. Budenz, Dr.P.H., M.A.
Current Fellow

Cancer Prevention Fellow
Organization:
Contact:
alexandra.budenz@nih.gov
240-276-5626
Alex Budenz, Dr.P.H., M.A., is a Cancer Prevention Fellow in the Tobacco Control Research Branch of the Behavioral Research Program.
Her research interest is in examining tobacco prevention and control using a health disparities framework, with a focus on mental health, youth/young adult, and sexual and gender minority populations. She is also interested in leveraging digital and mobile health technology to facilitate tobacco use prevention and cessation. She hopes to translate these research areas into behavioral interventions and tobacco control policy.
Dr. Budenz received her Dr.P.H. in community health and prevention from Drexel University in Philadelphia and a master's degree in clinical mental health counseling from The George Washington University. She also holds a B.S. in multimedia communication and psychology from the University of Miami. Her dissertation examined the manifestation of mental illness stigma on social media, and she also spent much of her time at Drexel University researching the role of social media in HPV vaccine uptake.
Current and/or past BRP mentors include Yvonne Prutzman.