Staff: Alexandra R. Budenz, Dr.P.H., M.A.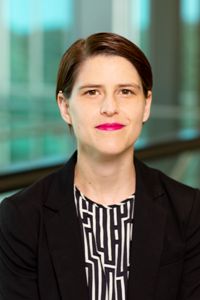 Alexandra R. Budenz, Dr.P.H., M.A.
Former Fellow, Transitioned Outside of the Program

Cancer Prevention Fellow
Former Organization:
Alex Budenz, Dr.P.H., M.A., was a Cancer Prevention Fellow in the Tobacco Control Research Branch of the Behavioral Research Program from 2018-2021.
Her research interest is in examining tobacco prevention and control using a health disparities framework, with a focus on mental health, youth/young adult, and sexual and gender minority populations. She is also interested in leveraging digital and mobile health technology to facilitate tobacco use prevention and cessation. She hopes to translate these research areas into behavioral interventions and tobacco control policy.
Dr. Budenz received her Dr.P.H. in community health and prevention from Drexel University in Philadelphia and a master's degree in clinical mental health counseling from The George Washington University. She also holds a B.S. in multimedia communication and psychology from the University of Miami. Her dissertation examined the manifestation of mental illness stigma on social media, and she also spent much of her time at Drexel University researching the role of social media in HPV vaccine uptake.
---
"Where are they now?": Following up with past BRP fellows
Updated December 2021
Current Title
Social Scientist
FDA Center for Tobacco Products, Office of Health Communication and Education
How has your BRP fellowship influenced your career?
I have received incredible mentorship in BRP, both within and outside of my branch (TCRB). Prior to my fellowship in BRP, I was in a different area of research, and as a result of my time in TCRB, I found a calling for tobacco research, which led me to pursue my current position at the Center for Tobacco Products.
Describe a favorite memory or two from your fellowship experience.
My favorite memories will always be spending time with other fellows at social events. Specifically, it was nice to get to know fellows across mechanisms (e.g., CPFP, CRTA) and at different career phrases. Another great experience during my fellowship was conducting a study under the DCCPS CRAFT award. The ability to collect primary data and engage in qualitative research during the fellowship allowed me to reconnect to the people we are trying to reach with our research and resources and brought tremendous value to the work.
Describe your current position, your current organization, and what you do.
I am a social scientist at the FDA Center for Tobacco Products, Office of Health Communication and Education. I am part of the Division of Research and Evaluation, which conducts research to inform the development and evaluation of national-level tobacco prevention campaigns. My research focus more broadly is in tobacco use disparities and leveraging digital communication and technology to democratize tobacco-related information and resources.
Awards, Honors, and Recognitions

2019 - DCCPS CRAFT Award
2019 - Cancer Prevention Fellowship Program Trans-Disciplinary Fellowship Research Award
2020 - Cancer Prevention Fellowship Program Merit Award
2021 - NCI Director's Award
Current and/or past BRP mentors include Yvonne Prutzman.