Staff: Lisa Klesges, Ph.D., M.S., B.A.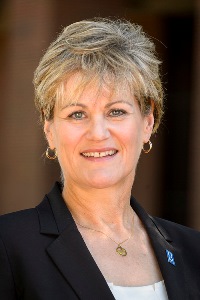 Lisa Klesges, Ph.D., M.S., B.A.
Contractor
Organization:
Content on this page is provided for reference purposes only. It is no longer maintained and may now be outdated.
Dr. Lisa M. Klesges, PhD, was a Senior Advisor (Contractor) in Public Health in the Health Communication and Informatics Research Branch (HCIRB) in the Division of Cancer Control and Population Sciences (DCCPS) at the National Cancer Institute (NCI). Her responsibilities included special projects in implementation of mobile health and community behavioral change interventions. Her interests included a focus on rural cancer control, and systems and multi-level methodologies to support design and evaluation of population health improvement approaches.
In addition to her work at NCI, Dr. Klesges holds an appointment as Professor and Founding Dean Emeritus of the School of Public Health, University of Memphis (2008-current). Previously, she has held academic positions at St. Jude Children's Research Hospital, the Mayo Clinic College of Medicine, and the University of Tennessee Health Science Center, Department of Preventive Medicine.
Dr. Klesges received her B.A. in Psychology from Concordia College in Moorhead, MN; M.S. in Psychology from University of Memphis with a concentration in quantitative methods, and her Ph.D. in epidemiology from University of Minnesota with a concentration in behavioral epidemiology. She has been a principal investigator or co-investigator on over 50 funded projects supported by NIH, national foundations, and local agencies. Her research interests include obesity prevention, cancer prevention and control, sickle cell disease transitions in care, and translational research methods with her work published widely in journals of public health, behavioral science, epidemiology, and medicine.
Dr. Klesges is a Fellow in the Society of Behavioral Medicine and the American College of Epidemiology; and is Past-President of the Society of Behavioral Medicine. She is a past associate editor for the Annals of Behavioral Medicine, and currently serves as consulting editor for Translational Behavioral Medicine: Practice, Policy, Research. In addition to past local, national, and international service as a consultant and advisor, Dr. Klesges currently serves on the Health Care Industry Council of the Eighth District Federal Reserve Bank and the Neighborhood Preservation, Inc Board of Directors in Memphis, TN.
---
Research Areas
Behavior change and connected health interventions
Dissemination and implementation research methods
Learning health systems and complex interventions
Rural cancer control and population health improvement
---
Selected Publications and Presentations
Hall KL, Oh A, Perez LG, Rice EL, Patel M, Czajkowski S, Klesges L. The ecology of multilevel intervention research. Transl Behav Med 2018 Nov 21; 8(6):968-978.
Zeilera M, Kusob S, Nackec B, Klesges LM, Waldherr K. Evaluating Reach, Adoption, Implementation and Maintenance of internet-based interventions to prevent eating disorders in adolescents: A systematic review. Eur J Public Health .
Ullmann G, Kedia SK, Homayouni R, Akkus C, Schmidt M, Klesges LM, Ward KD. Memphis FitKids: implementing a mobile-friendly web-based application to enhance parents' participation in improving child health. BMC Public Health 2018 Aug 29; 18(1):1068.
Alcantara C, Klesges LM, Resnicow K, Stone A, Davidson KW. Enhancing the Evidence for Behavioral Counseling: A Perspective From the Society of Behavioral Medicine. Am J Prev Med 2015 Sep; 49(3 Suppl 2):S184-93.
Yu X, Klesges LM, Smeltzer MP, Osarogiagbon RU. Measuring improvement in populations: implementing and evaluating successful change in lung cancer care. Transl Lung Cancer Res 2015 Aug; 4(4):373-84.