Staff: Alix Sleight, Ph.D., M.P.H., O.T.D., O.T.R./L.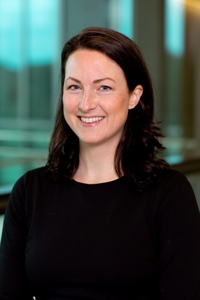 Alix Sleight, Ph.D., M.P.H., O.T.D., O.T.R./L.
Current Fellow

Cancer Prevention Fellow
Organization:
Office of the Associate Director (OAD)
Contact:
alix.sleight@nih.gov
240-276-5079
Alix Sleight, Ph.D., M.P.H., O.T.D., O.T.R./L., is a Cancer Prevention Fellow in the Behavioral Research Program's Office of the Associate Director. Her research focuses on quality of life during cancer survivorship. She is particularly interested in topics surrounding everyday activity, habit change, spiritual growth, and self-actualization.
Prior to joining NCI, Dr. Sleight worked clinically as an Occupational Therapist with a specialty in health behavior counseling for cancer survivors. Her research has involved qualitative and quantitative investigations of supportive care needs and quality of life in underserved populations of cancer survivors.
Dr. Sleight earned a Ph.D. in Occupational Science and an M.P.H. from the University of Southern California. She also holds an M.A. and a clinical doctorate (O.T.D.) in Occupational Therapy from the University of Southern California, and a B.A. in English from Wesleyan University.
Current and/or past BRP mentors include William Klein.
---
Research Areas
Survivorship
Cancer rehabilitation
Health-related quality of life
Patient-reported outcomes
Lifestyle adaptation
Qualitative and mixed methods research
Transpersonal psychology
---
Selected Publications and Presentations
Sleight AG, Lyons KD, Vigen C, Macdonald H, Clark F. The association of health-related quality of life with unmet supportive care needs and sociodemographic factors in low-income Latina breast cancer survivors: a single-centre pilot study. Disabil Rehabil 2018 Jul 27:1-6.
Lyons KD, Padgett LS, Marshall TF, Greer JA, Silver JK, Raj VS, Zucker DS, Fu JB, Pergolotti M, Sleight AG, Alfano CM. Follow the trail: Using insights from the growth of palliative care to propose a roadmap for cancer rehabilitation. CA Cancer J Clin 2019 Mar; 69(2):113-126.
Marshall TF, Alfano CM, Sleight AG, Moser RP, Zucker DS, Rice EL, Silver JK5, Raj VS, Fu JB, Padgett LS, Lyons KD, Radomski MV, McKenna R, Pergolotti M. Consensus-Building efforts to identify best tools for screening and assessment for supportive services in oncology. Disabil Rehabil 2019 Feb 19:1-8.
Sleight AG, Ramirez CN, Miller KA, Milam JE. Hispanic Orientation and Cancer-Related Knowledge in Childhood Cancer Survivors. J Adolesc Young Adult Oncol 2019 Jun; 8(3):363-367.
Stout NL, Sleight A, Pfeiffer D, Galantino ML, Wisotzky E. Patient navigation: building the intersect between oncology and rehabilitation systems of care. Support Care Cancer 2019.