Staff: Arielle S. Gillman, Ph.D., M.P.H.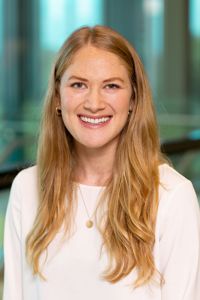 Arielle S. Gillman, Ph.D., M.P.H.
Former Fellow

Cancer Prevention Fellow
Organization:
Arielle Gillman, Ph.D., M.P.H., was a Cancer Prevention Fellow (CPF) in the Basic Biobehavioral and Psychological Sciences Branch (BBPSB) of the Behavioral Research Program from June 2019 to January 2022.
Dr. Gillman's research interests focused on the interplay between cognitive and affective psychological processes as they influence health behavior motivation, decision making, engagement, and maintenance. She was particularly interested in understanding how affective and emotional factors affect engagement in health-related behavior. Her previous work focused on identifying strategies to help make the affective experience of health-protective behaviors such as cardiovascular exercise more pleasant, including mindfulness, distraction, and "gamifying" exercise via mobile apps. Additionally, Dr. Gillman was interested in how risk perceptions and other cognitive beliefs interact with affective factors to drive health-related decision making across several behavioral contexts including healthy eating, exercise, receipt of genetic testing results, sun-protective behaviors, cancer care decisions, and other behaviors. Dr. Gillman was also interested in quantitative methods for behavioral science research.
Dr. Gillman received her Ph.D. in Social Psychology from the University of Colorado Boulder, with a certificate in Quantitative Methods for the Behavioral Sciences, and her M.P.H. from Johns Hopkins University with a concentration in Biostatistics and Epidemiology. Her B.A.s are in Neuroscience and Art History from the University of Southern California.
---
"Where are they now?": Following up with past BRP fellows
Updated January 2022
Current Title
Social and Behavioral Sciences Administrator (Program Officer)
National Institute on Minority Health and Health Disparities (NIMHD)
How has your BRP fellowship influenced your career?
Working as a postdoctoral fellow within BRP opened my eyes to what it could be like to use my PhD in Social Psychology outside of academia or industry. I found that I could still be a part of the psychology, behavioral medicine, and public health scientific communities that I love in a job where I could work to to shape the research priorities of the country in meaningful ways. Most importantly, I got to work with incredible mentors and peers who were there to guide me every step of the way and were invested in me no matter what path I chose.
Describe a favorite memory or two from your fellowship experience.
My favorite memories are the collaborative research meetings between me, my mentors (Becky & Bill), and other fellows. It was always so much fun to discuss ideas with them and come up with new projects. It was also incredible to get to join CASPHR meetings. I have admired and looked up to the scientists in that group since I was in grad school, and being able to see how they think, and be asked for my input, was an amazing experience. They are like celebrities to me!
Describe your current position, your current organization, and what you do.
I am a Program Officer in the Division of Integrative Biological and Behavioral Sciences at the National Institute on Minority Health and Health Disparities. I manage a portfolio of behavioral science grants relevant to the health of populations that disproportionately experience health disparities.
Awards, Honors, and Recognitions

Collaborative Research Award for Trainees CRAFT Award - 2021 (Understanding biases in cancer treatment decision making among cancer survivors)
TESS (Time-Sharing Experiments in the Social Sciences - 2020 (Understanding effects of communicating different types of conflicting information about nutrition and cancer risk)
TFRA (Trans-Fellowship Research Award) Supplement - 2021 (Understanding effects of communicating different types of conflicting information about nutrition and cancer risk)
Publications from Fellowship Work

Current and/or past BRP mentors include Rebecca Ferrer and William Klein.