Staff: Arielle Gillman, Ph.D., M.P.H.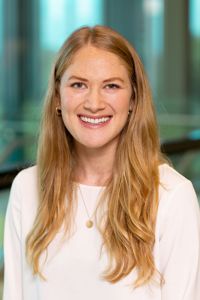 Arielle Gillman, Ph.D., M.P.H.
Current Fellow

Cancer Prevention Fellow
Organization:
Contact:
arielle.gillman@nih.gov
240-276-5892
Arielle Gillman, Ph.D., M.P.H., is a Cancer Prevention Fellow (CPF) in the Basic Biobehavioral and Psychological Sciences Branch (BBPSB) of the Behavioral Research Program.
Dr. Gillman's research interests focus on the interplay between cognitive and affective psychological processes as they influence health behavior motivation, decision making, engagement, and maintenance. She is particularly interested in understanding how affective and emotional factors affect engagement in health-related behavior. Her previous work has focused on identifying strategies to help make the affective experience of health-protective behaviors such as cardiovascular exercise more pleasant, including mindfulness, distraction, and "gamifying" exercise via mobile apps. Additionally, Dr. Gillman is interested in how risk perceptions and other cognitive beliefs interact with affective factors to drive health-related decision making across several behavioral contexts including healthy eating, exercise, receipt of genetic testing results, sun-protective behaviors, cancer care decisions, and other behaviors. Dr. Gillman is also interested in quantitative methods for behavioral science research.
Dr. Gillman received her Ph.D. in Social Psychology from the University of Colorado Boulder, with a certificate in Quantitative Methods for the Behavioral Sciences, and her M.P.H. from Johns Hopkins University with a concentration in Biostatistics and Epidemiology. Her B.A.s are in Neuroscience and Art History from the University of Southern California.
Current and/or past BRP mentors include Rebecca Ferrer and William Klein.
---
Research Areas
Cognitive, affective, and social psychological processes in health behavior promotion
Health motivation, judgment, and decision making
---
Selected Publications and Presentations
Gillman AS, Bryan AD. Effects of Performance Versus Game-Based Mobile Applications on Response to Exercise. Ann Behav Med 2016 Feb; 50(1):157-162.
Stevens C, Gillman AS, Gardiner CK, Montanaro EA, Bryan AD, Conner M. Feel good now or regret it later? The respective roles of affective attitudes and anticipated affective reactions for explaining health-promoting and health risk behavioral intentions. J Appl Soc Psychol 2019.
Gillman AS, Hutchison KE, Bryan AD. Cannabis and Exercise Science: A Commentary on Existing Studies and Suggestions for Future Directions. Sports Med 2015 Oct; 45(10):1357-1363.
Gillman AS, Gardiner CK, Koljack CE, Bryan AD. Body mass index, diet, and exercise: testing possible linkages to breast cancer risk via DNA methylation. Breast Cancer Res Treat 2018 Feb; 168(1):241-248.
Gillman AS, Yeater EA, Feldstein Ewing SW, Kong AS, Bryan AD. Risky Sex in High-Risk Adolescents: Associations with Alcohol Use, Marijuana Use, and Co-Occurring Use. AIDS Behav 2018 Apr; 22(4):1352-1362.