Staff: Irina A. Iles, Ph.D., M.P.H.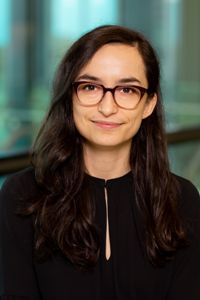 Irina A. Iles, Ph.D., M.P.H.
(she/her/hers)
Former Fellow, Currently Employed within the Program

Program Director
Organization:
NOTE: Dr. Iles is a Program Director in the Behavioral Research Program. This page reflects her time as a fellow; find her staff profile here.
Irina A. Iles, Ph.D., M.P.H., was a Cancer Prevention Fellow (CPF) in the Office of the Associate Director (OAD) in the Behavioral Research Program from 2019-2021.
Irina's research concerned the communicative aspect of health promotion and centers on how persuasive communication can be used to prevent and manage illness and promote population health.
Irina focused on understanding basic processes underlying human judgment and health decision making, particularly around risk-increasing health behaviors (e.g., smoking, poor nutrition), in order to design effective health messages. She was also interested in uncovering the effects of misleading advertising on health-related perceptions and behaviors.
In her first year of the Cancer Prevention Fellowship, Irina earned an M.P.H. in Epidemiology and Biostatistics from Johns Hopkins Bloomberg School of Public Health. Prior to that, she earned a Ph.D. in Health Communication from the University of Maryland at College Park. During graduate school, Irina was a research fellow with the Food and Drug Administration, Center for Drug Evaluation and Research, and worked as a research scientist at the National Consortium for the Study of Terrorism and Responses to Terrorism in the Risk Communication and Resilience Program.
---
"Where are they now?": Following up with past BRP fellows
Updated August 2021
Current Title
Social Scientist
Center for Drug Evaluation and Research, FDA
How has your BRP fellowship influenced your career?
I think one of the most important things I've learned has been how to lead with kindness and be a team player. And that's really serving me well in my current career path.
Describe a favorite memory or two from your fellowship experience.
I was impressed to almost tears when my mentor Bill Klein asked if my presentation for my first fellows research meeting during the pandemic could be recorded since he couldn't attend. He watched the recording and sent me detailed feedback afterwards. While I've had great mentors along the way, this was beyond anything I ever experienced. This situation was a turning point for me in realizing the type of mentor I want to be when my time comes; I felt appreciated and supported on a whole new level.
Describe your current position, your current organization, and what you do.
I am a social scientist in the Office of Communications, Research and Risk Communications at the Center for Drug Evaluation and Research, FDA. Our work focuses on developing evidence to inform CDER's communications, regulatory actions, and policies on a variety of topics, including opioids, benzodiazepines and biosimilars.
Publications from Fellowship Work

Current and/or past BRP mentors include William Klein, Rebecca Ferrer and Rachel Grana Mayne.
---
Selected Publications and Presentations