Staff: Irina Iles, Ph.D., M.P.H.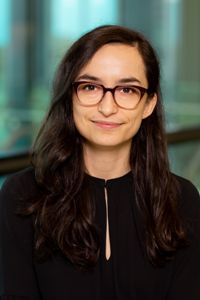 Irina Iles, Ph.D., M.P.H.
Current Fellow

Cancer Prevention Fellow
Organization:
Office of the Associate Director (OAD)
Contact:
irina.iles@nih.gov
240-276-6973
Irina A. Iles, Ph.D., M.P.H., is a Cancer Prevention Fellow (CPF) in the Office of the Associate Director (OAD) in the Behavioral Research Program.
Irina's research concerns the communicative aspect of health promotion and centers on how persuasive communication can be used to prevent and manage illness and promote population health.
Irina focuses on understanding basic processes underlying human judgment and health decision making, particularly around risk-increasing health behaviors (e.g., smoking, poor nutrition), in order to design effective health messages. She is also interested in uncovering the effects of misleading advertising on health-related perceptions and behaviors.
In her first year of the Cancer Prevention Fellowship, Irina earned an M.P.H. in Epidemiology and Biostatistics from Johns Hopkins Bloomberg School of Public Health. Prior to that, she earned a Ph.D. in Health Communication from the University of Maryland at College Park. During graduate school, Irina was a research fellow with the Food and Drug Administration, Center for Drug Evaluation and Research, and worked as a research scientist at the National Consortium for the Study of Terrorism and Responses to Terrorism in the Risk Communication and Resilience Program.
Current and/or past BRP mentors include William Klein.
---
Research Areas
Health communication
Decision-making
Risk perception
Tobacco
Nutrition
---
Selected Publications and Presentations
Iles IA, Nan X, Ma Z, Feldman R, Butler J, Wang MQ, Zhao X Self-Affirmation and Defensive Processing of Graphic Cigarette Warning Labels by African American Smokers: A Community-Based Study. Health Educ J 2019; 78(3):301-314.
Verrill L, Iles IA, Nan X. Soda or VitaSoda: How Product Name Influences Perceptions of Snack Food Healthfulness and the Moderating Role of Nutrition Facts Labels. Health Commun 2019 Apr 8:1-8.
Iles IA, Nan X, Verrill L. Nutrient Content Claims: How They Impact Perceived Healthfulness of Fortified Snack Foods and the Moderating Effects of Nutrition Facts Labels. Health Commun 2018 Oct; 33(10):1308-1316.
Iles IA, Nan X. Counterfactuals in Health and Risk Messaging. The Oxford Encyclopedia of Health and Risk Message Design and Processing 2017.
Iles IA, Boekeloo B, Atwell Seate A, Quinton S. The Impact of Spirituality and Religiosity on Unprotected Sex for Adult Women. Am J Health Behav 2016 Mar; 40(2):240-7.