Staff: Sydney G. O'Connor, Ph.D.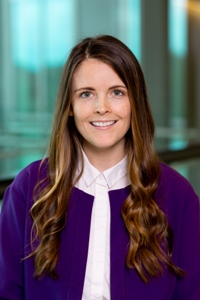 Sydney G. O'Connor, Ph.D.
(she/her/hers)
Former Fellow, Transitioned Outside of the Program

Cancer Prevention Fellow
Former Organization:
Sydney O'Connor, Ph.D., was a Cancer Prevention Fellow in the Health Behaviors Research Branch of the Behavioral Research Program.
Dr. O'Connor's research focused on temporal patterns of health behaviors and their impact on weight status and other mechanisms underlying obesity and cancer risk.
Dr. O'Connor was particularly interested in how misalignment of sleep and eating with circadian rhythms may influence obesity and cancer risk. She was also interested in exploring the utility and biopsychosocial correlates of time-restricted feeding and intermittent fasting approaches to obesity and cancer prevention. Additionally, she was interested in understanding how chronotype and diurnal preference may influence adherence to interventions and long-term maintenance of health behavior change.
Dr. O'Connor sought to leverage technology, including ecological momentary assessment (EMA) and passive sensors, to improve measurement of daily health behaviors and their psychosocial correlates. Additionally, she was interested in understanding the role of the family system and intergenerational processes in influencing the development of health behaviors among youth, and the impact of daily and chronic stress on individual and family health behaviors.
Her dissertation work leveraged various methodologies to examine the role of night-to-night sleep health variability on daily dietary quality, patterns of eating behavior, and weight trajectories among youth. This work was supported by a Ruth L. Kirschstein National Research Service Award (NRSA) Individual Predoctoral Fellowship from the National Heart, Lung, and Blood Institute.
Before joining the Cancer Prevention Fellowship, Dr. O'Connor earned a Ph.D. in Health Behavior Research from the University of Southern California. She also holds a B.A. in Psychology and Linguistics from Northeastern University.
---
"Where are they now?": Following up with past BRP fellows
Updated September 2022
Current Title
Health Scientist Administrator (Program Officer)
National Institutes of Health, Office of Behavioral and Social Sciences Research
How has your BRP fellowship influenced your career?
My time in BRP allowed me to build collaborations and learn from an incredible set of individuals at all career stages. I enjoyed the opportunity to dig deeply into topics of interest, while also exploring new cross-cutting research areas that I had never considered, such as the impact of climate change on health. In addition to conducting research, my time at BRP exposed me to programmatic activities like leading working groups, planning webinars, and conducting portfolio analyses. Ultimately, my experiences in BRP sparked my interest in pursuing a career in the federal government.
Describe a favorite memory or two from your fellowship experience.
I was part of a team that received a Collaborative Research Award for Trainees (CRAFT) to fund a mixed-methods research project. We received notice of the award during the beginning of the COVID-19 pandemic and ended up conducting the entire project, from submitting the IRB protocol, to interviewing participants, to writing up our results, virtually. Despite these challenges, our team thrived. My favorite fellowship memories are centered around this team – our weekly virtual meetings, brainstorming sessions, and the wonderful mix of backgrounds and ideas that we combined to address our research questions.
Describe your current position, your current organization, and what you do.
I am a Health Scientist Administrator (Program Officer) in the NIH Office of Behavioral and Social Sciences Research. In this role, I am responsible for overseeing the development of new scientific initiatives focused on behavioral processes and social influences on health as well as coordinating these efforts across NIH and with other federal agencies.
Awards, Honors, and Recognitions

NCI Director's Award for Emerging Leader (2021)
NCI Cancer Prevention Fellowship Program Merit Award (2021)
Collaborative Research Award for Fellows in Training (CRAFT) (2020-2021)
Fellows Award for Research Excellence (FARE) Award (2020)
Current and/or past BRP mentors include Susan Czajkowski.
---
Selected Publications and Presentations