Staff: Sydney G. O'Connor, Ph.D.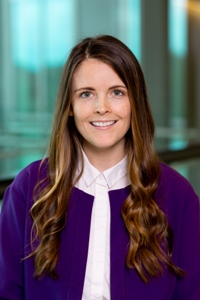 Sydney G. O'Connor, Ph.D.
(she/her/hers)
Current Fellow

Cancer Prevention Fellow
Organization:
Contact:
sydney.o'connor@nih.gov
240-276-5626
Sydney O'Connor, Ph.D., is a Cancer Prevention Fellow (CPF) in the Health Behaviors Research Branch (HBRB) of the Behavioral Research Program.
Dr. O'Connor's research focuses on temporal patterns of health behaviors and their impact on weight status and other mechanisms underlying obesity and cancer risk.
Dr. O'Connor is particularly interested in how misalignment of sleep and eating with circadian rhythms may influence obesity and cancer risk. She is also interested in exploring the utility and biopsychosocial correlates of time-restricted feeding and intermittent fasting approaches to obesity and cancer prevention. Additionally, she is interested in understanding how chronotype and diurnal preference may influence adherence to interventions and long-term maintenance of health behavior change.
Dr. O'Connor seeks to leverage technology, including ecological momentary assessment (EMA) and passive sensors, to improve measurement of daily health behaviors and their psychosocial correlates. Additionally, she is interested in understanding the role of the family system and intergenerational processes in influencing the development of health behaviors among youth, and the impact of daily and chronic stress on individual and family health behaviors.
Her dissertation work leveraged various methodologies to examine the role of night-to-night sleep health variability on daily dietary quality, patterns of eating behavior, and weight trajectories among youth. This work was supported by a Ruth L. Kirschstein National Research Service Award (NRSA) Individual Predoctoral Fellowship from the National Heart, Lung, and Blood Institute.
Before joining the Cancer Prevention Fellowship, Dr. O'Connor earned a Ph.D. in Health Behavior Research from the University of Southern California. She also holds a B.A. in Psychology and Linguistics from Northeastern University.
Current and/or past BRP mentors include Susan Czajkowski.
---
Research Areas
Sleep and circadian rhythms
Temporal eating patterns
Obesity and weight control
Psychosocial determinants of health behaviors
mHealth and EMA methodology
---
Selected Publications and Presentations