Staff: Ashley B. Murray, Ph.D.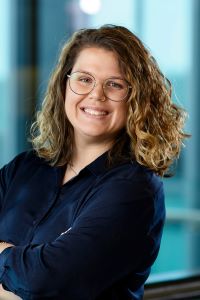 Ashley B. Murray, Ph.D.
(she/her/hers)
Current Fellow

Cancer Research Training Award Fellow
Organization:
Office of the Associate Director (OAD)
Contact:
ashley.murray@nih.gov
240-276-5518
Ashley Murray, Ph.D., is a Cancer Research Training Award (CRTA) fellow in the Office of the Associate Director (OAD) of the Behavioral Research Program.
As a CRTA fellow, Dr. Murray's work will primarily support the Health Information National Trends Survey (HINTS), which tracks how U.S. adults obtain health information. Dr. Murray is interested in utilizing large national surveys, such as HINTS, to identify cancer disparities that would benefit from targeted health interventions. Dr. Murray's work at NCI will also focus on developing and supporting use of the Grid-Enabled Measures (GEM) database to promote collaboration between scientists and facilitate the usage of common measures for more effective data harmonization.
Dr. Murray earned her Ph.D. in Social Psychology from the University of Toledo. While there, her research explored how cognitive and emotional factors impact engagement in health behaviors among community samples, including cancer survivors, at-risk urban teens, and children visiting the dentist. Dr. Murray's dissertation focused on leveraging cognitive and affective models to explore HPV vaccination uptake and intentions among young adults and attempted to experimentally increase young adults' intentions to get the HPV vaccine in the future. Dr. Murray received her B.S. in Psychology from Southwestern Oklahoma State University where she first began her cancer-related research by exploring the media's impact on both students' knowledge of breast cancer and on cancer information seeking behavior.
Current and/or past BRP mentors include Richard Moser.
---
Research Areas
Public Use Datasets
Data Harmonization
Health Behavior Promotion
Affective Associations