Staff: Kara L. Hall, Ph.D.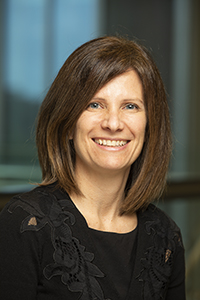 Kara L. Hall, Ph.D.
Program Director
Organization:
Kara L. Hall, Ph.D., is a Health Scientist, the Director of the Science of Team Science (SciTS) Team, and Director of the Theories Initiative in the Health Behaviors Research Branch (HBRB) at the National Cancer Institute (NCI). During her career, Dr. Hall has participated in a variety of interdisciplinary clinical and research endeavors. Notably, Dr. Hall helped launch the SciTS field by co-chairing the 2006 conference The Science of Team Science: Assessing the Value of Transdisciplinary Research and co-editing the 2008 American Journal of Preventive Medicine Special Supplement on SciTS, recently identified as the most cited and downloaded AJPM supplement.
Dr. Hall provides continued leadership for the SciTS field through roles such as planning committee member and contributor to the Annual International Science of Team Science (2010-17). She served as Program Chair (2013), Conference Chair (2014-16), and Co-Chair (2017). Dr. Hall also has served as a member of The National Academies Committee on the Science of Team Science (2012-15). The resulting report, Enhancing the Effectiveness of Team Science, was the third most downloaded National Academies Press report in 2015. Dr. Hall also served as co-chair for a Trans-Agency Subcommittee on Collaboration and Team Science of the Federal Networking and Information Technology Research and Development (NITRD) Program in the National Science and Technology Council in the Executive Office of the President (2011-16).
Dr. Hall has focused on advancing the SciTS field by developing new metrics, measures, and models for understanding and evaluating transdisciplinary research, collaboration, and training. She aims to facilitate team science programs and projects by advancing organizational supports (e.g., tenure and promotion policies), using innovative grant mechanisms, and developing tools to support scientists engaging in and studying team science. Examples of her supportive work include the Team Science Toolkit and the development of initiatives that enhance collaborative interdisciplinary teams. While at NCI, Dr. Hall has also focused on advancing dissemination and implementation research; promoting the use, testing, and development of health behavior theory; and championing systems science approaches, research methods, and intervention development.
Before coming to NCI, Dr. Hall researched behavioral science methodologies. Projects of note include designing survey protocols, developing meta-analytic techniques for health behavior theory testing, applying health behavior theory to multiple content areas, and developing computerized, tailored interventions to foster health promotion and disease prevention behaviors.
Dr. Hall earned a master's degree and a doctorate from the University of Rhode Island (URI) in psychology with specializations in clinical psychology, neuropsychology, and behavioral science. Early in her career, Dr. Hall received several fellowships, including the following: URI Graduate Fellowship, URI Research Ethics Fellowship, American Cancer Society Postdoctoral Fellowship, and NCI Postdoctoral Cancer Research Training Award. Throughout her career, Dr. Hall has received accolades. Awards include a dissertation award from the Society of Multivariate Experimental Psychology; the Peter Merenda Prize in Statistics and Research Methodology; appointment to a National Academies Committee; research citation awards; keynote invitations; and NCI merit, service, leadership, and performance awards.
Current and/or past BRP mentors include Richard Moser.

Current and/or past BRP mentees include Amanda Vogel, Rebecca Ferrer and Elise Rice.
---
Selected Publications and Presentations
Hall, K. L., Vogel, A. L., Stokols D., Morgan, G., & Gelhert, S. A four-phase model of transdisciplinary research: Goals, team processes, and strategies. Transl Behav Med 2012; 2(4).
Hall, K.L., Stokols, D., Stipelman, B.A., Vogel, A.L, Feng, A., Masimore, B., Morgan, G., Moser, R.P., Marcus, S.E., & Berrigan, D. Assessing the Value of Team Science: A Study Comparing Center- and Investigator-Initiated Grants. Am J Prev Med 2012 Feb; 42(2):157-163.
Hall,K.L.; Stokols,D.; Moser,R.P.; Taylor,B.K.; Thornquist,M.D.; Nebeling,L.C.; Ehret,C.C.; Barnett,M.J.; McTiernan,A.; Berger,N.A.; Goran,M.I.; Jeffery,R.W.; The collaboration readiness of transdisciplinary research teams and centers findings from the National Cancer Institute's TREC Year-One evaluation study. Am J Prev Med 2008; 35(2 Suppl):S161-S172.
Stokols,D.; Misra,S.; Moser,R.P.; Hall,K.L.; Taylor,B.K.; The ecology of team science: understanding contextual influences on transdisciplinary collaboration. Am J Prev Med 2008; 35(2 Suppl):S96-115.
Hall, K. L., & Rossi, J. S. Examination of the strong and weak principles of change using integrative quantitative methods. Prev Med 2008; 46(3):266-274.