Staff: Margaret Mayer, Ph.D., M.P.H.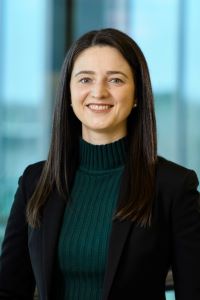 Margaret Mayer, Ph.D., M.P.H.
(she/her/hers)
Former Fellow, Currently Employed within the Program

Program Director
Organization:
NOTE: Dr. Mayer is a Program Director in the Behavioral Research Program. This page reflects her time as a fellow; find her staff profile here.
Margaret Mayer, Ph.D., M.P.H., was a Cancer Research Training Award (CRTA) Fellow in the Tobacco Control Research Branch (TCRB) of the Behavioral Research Program (BRP) from 2019-2021.
Dr. Mayer's work as a CRTA fellow primarily supported the Tobacco Use Supplement to the Current Population Survey (TUS-CPS), but she also explored other data sources related to tobacco use and co-behaviors.
Dr. Mayer's research focuses on the epidemiology of tobacco use. Her interests include identifying predictors of attitudes toward smoking and vaping policies. In addition, she is interested in exploring relationships between tobacco use, other health behaviors, and social determinants of health.
Dr. Mayer received her Ph.D. in Public Health from Yale University. Her dissertation investigated the association between tobacco use and food insecurity.
Prior to her doctorate, Dr. Mayer completed her M.P.H. in Chronic Disease Epidemiology at the Yale School of Public Health. During her time at Yale, she worked with the Yale Tobacco Center of Regulatory Science, where she focused on initiation of and transitions between different types of tobacco products among youth.
Dr. Mayer holds a bachelor's degree in Molecular and Cell Biology from the University of Connecticut.
---
"Where are they now?": Following up with past BRP fellows
Updated October 2021
Current Title
Program Director
Tobacco Control Research Branch, NCI Behavioral Research Program
How has your BRP fellowship influenced your career?
My time in BRP as a CRTA Fellow was invaluable to my career trajectory because it allowed me to explore careers in public service. TCRB works closely with Federal partners across the Department of Health and Human Services on issues related to tobacco use, which meant that I had the opportunity to observe the unique role of each agency and learn how they work together towards a common goal. Ultimately, I became a program director because I was inspired by the way that PDs shape the direction of research to address new questions and problems.
Describe a favorite memory or two from your fellowship experience.
During my first week at NCI, my mentor invited me to come along to an inter-agency meeting at HHS, and I met the Surgeon General!
Describe your current position, your current organization, and what you do.
I am a Program Director in the Division of Cancer Control and Population Sciences at the National Cancer Institute. In this role, I manage a portfolio of research related to tobacco surveillance and policy. In addition, I conduct a program of research that seeks to characterize, study transitions between, and identify the health effects associated with particular patterns of tobacco use. I also serve as a member of the Tobacco Use Supplement to the Current Population Survey (TUS-CPS) Management Team, where, among other tasks, I develop materials to promote and facilitate use of this large, nationally representative survey.
Current and/or past BRP mentors include Carolyn Reyes-Guzman.

Current and/or past BRP mentees include Samantha Cwalina.
---
Selected Publications and Presentations