Staff: Caitlin Bailey, M.S.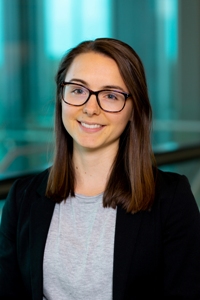 Caitlin Bailey, M.S.
Current Fellow

Cancer Research Training Award Fellow
Organization:
Office of the Associate Director (OAD)
Contact:
caitlin.bailey@nih.gov
240-276-5687
Caitlin Bailey, M.S., is a Cancer Research Training Award (CRTA) fellow in the Office of the Associate Director (OAD).
As a CRTA Fellow, Ms. Bailey is interested in applying health behavior theory to better understand the links between nutrition, physical activity, and cancer risk in young adults. She is particularly interested in the environmental and social determinants of weight-related health behaviors within diverse emerging adult populations.
Ms. Bailey recently earned a master's degree in Nutrition Interventions, Communication, and Behavior Change from Tufts University at The Gerald J. and Dorothy R. Friedman School of Nutrition Science and Policy. While at Tufts, she worked on multiple research projects related to childhood obesity and college campus health promotion. Ms. Bailey was awarded the honor of Honos Civicus by the Jonathan M. Tisch College of Civic Life for her commitment to public service. She holds a bachelor's degree from Wellesley College.
Ms. Bailey's research interests include nutrition and physical activity promotion and college/university health policy development. She is also interested in how socioeconomic disparities, such as food insecurity, influence both health and academic outcomes among emerging adults.
Current and/or past BRP mentors include Linda Nebeling.
---
Research Areas
Nutrition
Physical Activity
Energy Balance
Adolescent and Emerging Adult Health
Health Disparities
Social Determinants of Health
---
Selected Publications and Presentations